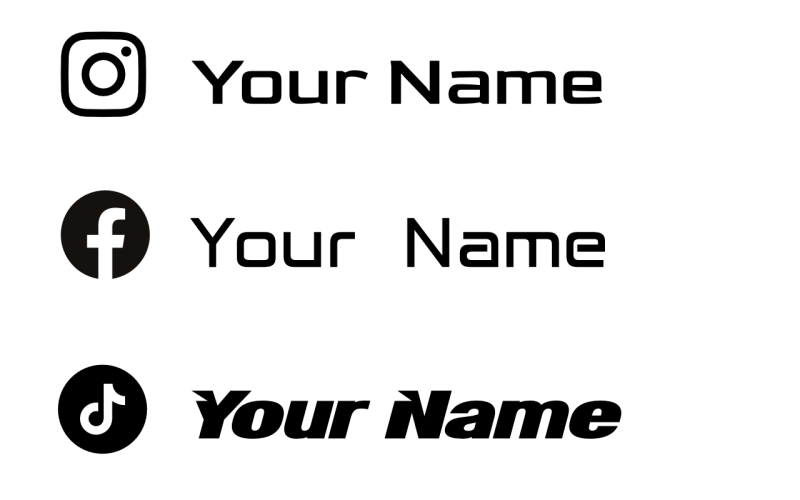  
Social media sticker
Create your personal social media sticker
 click "customize" and get started! Color, size, font style - it's up to you.
Product customisation
Our designs are available in over 100 colors
Oracal 751C (monochrome and metallic foil)
Oracal 975 (structured foil)
Create your personal social media sticker
Create your own design in no time. You can choose between different fonts and over 100 colors. You can also set the individually for your project.
That's how it works:
Choose the size of the working area in the left tab (you adjust the size of the lettering later)

In the right tab you can select the appropriate logo for your social media platform (Facebook, Instagram, YouTube, …)

The middle tab allows you to select the font and enter your name in text form. Type in your name and confirm with the tick

Algin and resize the desired social media logo and text the way you like it. The dimensions are shown in cm. Please note the terms of use of the social media platforms: the minimum distance between the logo and the text is half the wifth of the logo, just like illustrated in the following image






Change the color font style and size to your liking

At the end, check the name again for typos and whether you have chosen the right size and then add it to the shopping cart



Please note that this is a custom-made product and therfore cannot be returned
Note: If we suspect violent or inflammatory content, we reserve the right to refuse the order
Data sheet
type of foil

Orafol 751C

General

✔ Over 100 other colors to choose from
✔ branded film made in Germany
✔ can be removed without residue even after years
✔ car wash can still be used
✔ does not attack the paint
✔ free-standing: background results from the subsurface
✔ unicolored
✔ weather and UV resistant
Customers who bought this product also bought: